---
Cervical Radiculopathy
If you are experiencing intense pain in your upper arms, the cause may be cervical radiculopathy.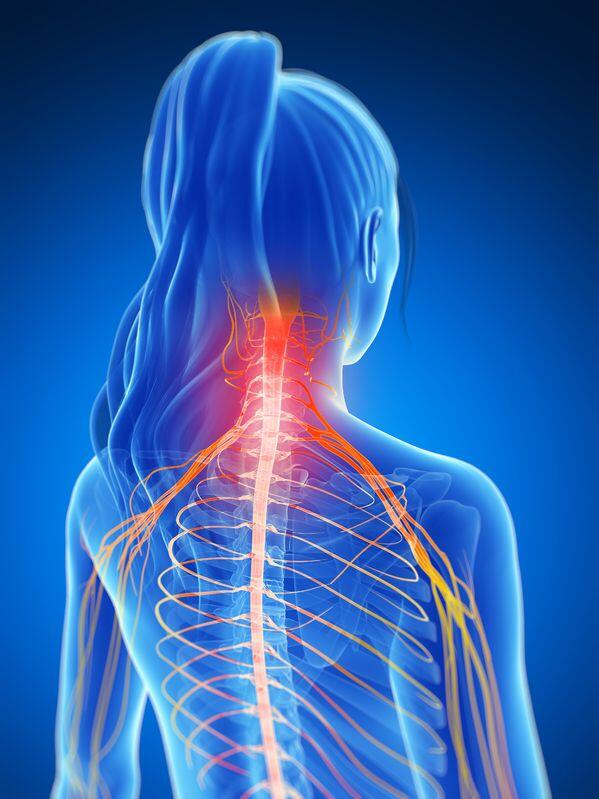 Cervical radiculopathy is caused by nerve compression in the upper neck which will painfully radiate down to the shoulders and arms. Dr. Droege has seen many cases of this painful injury in his St. Louis patients over the years. Esquire Orthopedic Rehabilitation and Sports Medicine have set up an effective course of therapy to relieve the pain caused by cervical radiculopathy and correct the compression of nerves that is causing it.
What Causes Cervical Radiculopathy?
There are a number of risk factors for cervical radiculopathy including work-related sources such as heavy lifting and working with equipment that causes vibrations. The likelihood of developing a painful injury also increases with age, especially in older people are less flexible.
Diagnosis
For Dr. Droege, the diagnosis begins with a full medical history, including your work environment. He will also do a physical assessment, focusing attention on the arms and hands. One common symptom of cervical radiculopathy is numbness in the fingers and decreased strength in the hands. Headaches and upper arm pain are also classic signs of this condition.
Treatment
The treatment administered at Esquire for cervical radiculopathy is non-invasive yet very effective at stopping the pain and restoring range of motion. This is done by utilizing a number of techniques that will be chosen based on your physical findings and pain pattern.
Spinal Decompression Therapy: Decompression therapy is very useful in cervical radiculopathy cases. By decompressing the upper nerves that are being irritated, circulation is restored taking the pressure off the nerve root which is causing the pain.
Spinal Manipulation: If Dr. Droege finds that a herniated disc is causing your pain, he will use manipulative techniques after testing and diagnosis are determined.
Exercise Therapy: A series of light movements will also be assigned to restore mobility to the neck and arms with a doctor at your side, you will perform exercises that are designed to increase the range of motion and reduce pain.
Call Esquire Orthopedic Rehabilitation and Sports Medicine at (314) 644-0855 if you are experiencing the painful symptoms of cervical radiculopathy. We are the oldest sports medicine clinic in St. Louis call us and we can usually see you the same day.