---
Esquire Orthopedic Rehabilitation and Sports Medicine
For 40+ years, our team of chiropractic physicians has been
serving the St. Louis Metropolitan Area.
We get athletes back on the field! We get you back to work!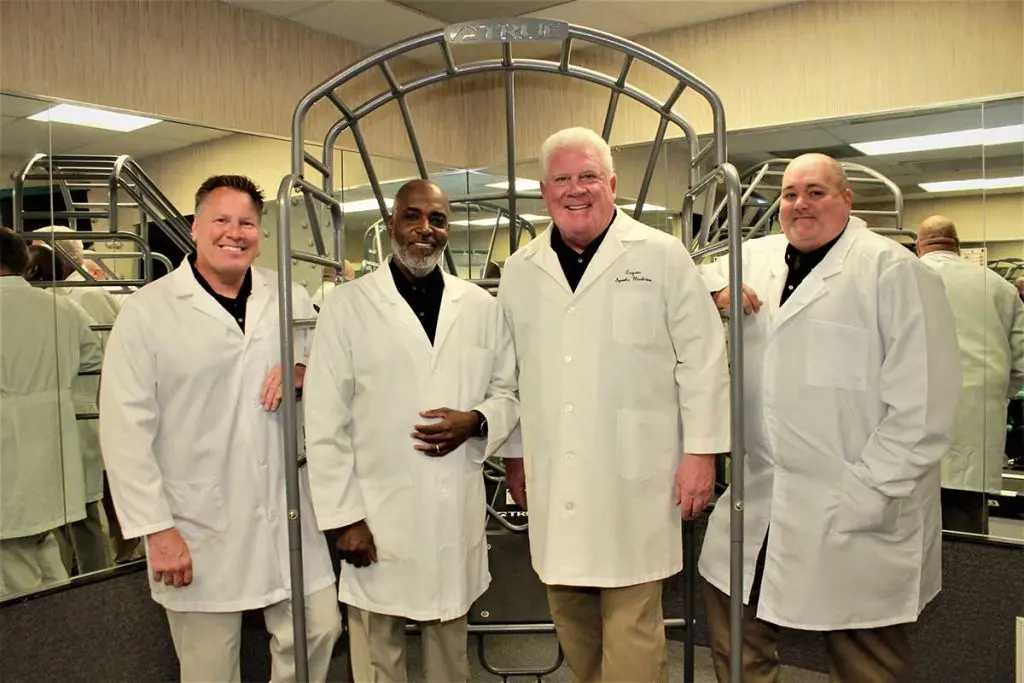 Esquire Orthopedic Rehabilitation and Sports Medicine is as much a part of St. Louis as the St. Louis Arch, the Cardinals, the Blues, and Forest Park.
When you walk through our doors you will receive a thorough examination, and possible testing prior to a treatment program being initiated.
We treat all types of muscular-skeletal injuries, including those caused by car accidents, work-related incidents, and sports injuries.
You can feel confident knowing that we are the oldest sports medicine clinic in St. Louis. Long before hospitals had sports medicine departments, there was Esquire Sports Medicine. All of our doctors are athletes who have had many of the injuries that you have experienced. We know what it is to be in pain and we are able to diagnose why you are suffering and what to do about it.
Wonderfull place and wonderfull people have had work injuries and pain and have never found more caring and knowledgeable people that do there best to get you feeling better asap and dont give you the run around
Excellant doctor very kind and I may say he listen to your needs and understand what you need never a problem with his staff very friendly ,I would always recommend them well Dr druggie very good,
I have had back Problems for over 50 years and now that I'm in my seventies arthritis and all the other calamities have happened to my body. But when I seek relief the only way I can get it is to go see doctor Droege. Right now Medical science has no cure for a lot of body ailments, But the relief I have received makes it well worth The Visit or visits to doctor Droege. He has been dedicated along with his staff for many years and has probably seen it all and I'm quite certain Cured a lot of people along the way. He seems to always put you in touch with the best way to help your situation. Whether it is he himself are one of his staff members He will have a solution for what ails you. I would highly recommend the trip
In one visit Dreoge fixed the part of my neck that I had issues with since age 3. ('06) He is very careful in regards to my newer injury. He helped me to get an MRI and works around my disc and broken neck injury. ('18) Only chiropractor I trust.
I've visited Dr. Miller on and off the past two years for running related injuries. Every time I go I feel well cared for and comfortable! He gets me back in tip top shape in no time. I trust him and the rest of the team at Esquire completely! They also have later hours on weekdays which is nice for folks who work during the day. I definitely recommend them to anyone with a sports related injury!
Dr Droege is very knowledgeable. I'm a mma fighter and always getting injuries. He has helped me every time. Thanks Dr Droege !!!
I have been going to Dr. Droege on and off for the last 10 + years. He fixes me every time! I highly recommend this office for your chiropractic needs.
The doctors are good get you in and out fast
---
ESM is your complete treatment center!

Chiropractic Adjustment Manipulation of the spine and extremities correct fixations which cause muscular skeletal pain. Back pain is debilitating often leaving the sufferer unable to even walk, let alone function normally. The chiropractors at ESM know this and strive to quickly relieve that pain and get you back on your feet. Chiropractic manipulation, or chiropractic…
Continue Reading Chiropractic Adjustment – Manipulation – Chiropractor St. Louis
We get athletes back on the field! We get you back to work!
When you come to ESM, we determine what is causing your pain and determine the proper course of action to repair your injury. With a thorough examination, which may involve an X-ray or MRI, we ensure a proper diagnosis. We then treat you and start you on your path to recovery. If we believe that you may need surgery, we will refer you to a health care provider who specializes in your condition.
ESM has 3 convenient locations in central St. Louis, South St. Louis, and Belleville, Illinois. We will see you within 24 hours, but most of the time, the same day. Our goal is to take your pain away. Just tell us what hurts and let us help you. We promise to treat you with respect. We often hear our patients say they trust us and that we treat them like family. We like that.
Esquire Orthopedic Rehabilitation and Sports Medicine